CPS continues to restrict public access to Board of Education agendas...
George N. Schmidt - August 24, 2010
The Chicago Board of Education continued in August 2010 to restrict public access to the agendas for the monthly Board meetings. The Board continues to make a brief summary agenda available to the public and press on line, while refusing to provide more than one copy of the lengthier agenda to the public on line prior to the meeting. On August 23, Substance again requested two copies of the long agenda for the August 25 Board meeting and was told that CPS would only provide one copy per person.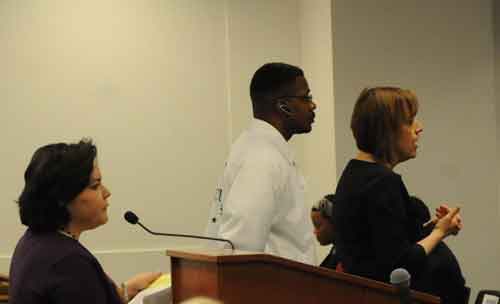 Above, Chicago Board of Education secretary Estela Beltran (left) going over the speakers prior to the April 28, 2010, meeting of the Chicago Board of Education. Substance photo by George N. Schmidt.The summary agenda provided on line is four pages long.
The full agenda, which includes the details of every policy and expense that will come before the Board, is roughly 230 pages long.