SUBSCRIPT: Why would an area instructional office plan an expensive Lake Geneva 'retreat' when teachers are being fired?
George N. Schmidt - August 01, 2010
Next time you run into Ron Huberman and he's telling you about how we all have to share in the sacrifices — like the characters in "Animal Farm"? — ask him about the Grand Geneva Hotel and the aspirations of his higher-level non-educator executives, visioning PMs and RDs and all that cool bright guy stuff they rattle on and on about at Data Driven Management Central. Here's the August 2010 end-of-the-month story. Regarding the Lake Geneva Hotel gig: We've got the famous "Who? What? When? and Where" (from the traditional journalism rules) on the story about how one Chicago "Instructional Area" is planning an expensive retreat at Lake Geneva, Wisconsin the last week of August. The lede currently goes like this: One of Chicago's 26 "Instructional Area Offices" is planning a three-day retreat at the expensive Grand Geneva Hotel in Lake Geneva, Wisconsin, from August 25 through August 27 to do some strategic planning and vision setting, according to CPS insiders and documents being prepared for the event. Etc. [The rest of the story will come later as Substance reporters check it all out].
The only two questions we still have are
"Why?" and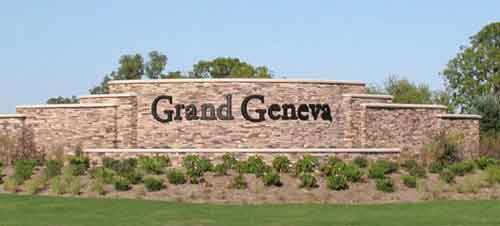 Above, the entrance to the Grand Geneva Hotel in Lake Geneva, Wisconsin, site of the planned retreat from August 25 through August 27 for one of Chicago's 'Area Instructional Offices'. Substance is working on getting photographs of the other amenities that will be available to Chicago's hard-working area people — and their school-based agents — as they study Data Driven Management, do their Curriculum Mapping and Reverse Mapping and all that cool stuff. We wonder if they will be utilizing utilizing the Climbing Wall and the WELL spa while sleeping each night in rooms that rent from roughly $250 to $400 or more per night. "How much will it cost?"
As we work to get those answers, we'll let our readers know what we did up.
For now, we thank attentive readers of Substance and www.substancenews.net for alerting us to various examples, large, larger and largest, of the hypocrisy of the Daley administration and their minions at 125 S. Clark St. Your tips help us find and vet stories, but remember: We rarely go very far with anonymous tips (we have to be able to contact you) and we never run stories in full until we've checked them out. Checking them out even involves finally giving the perpetrators a chance to give us a "react quote" (i.e., a "reaction quote" to the fact that we're going to run the story).
A satirist couldn't make this stuff up. According to the leaders' leading agenda, they'll be doing some "Setting the Vision" and "Curriculum Mapping" on the 25th, followed by PM and PD scheduling (honest) with "Teambuilding" beginning at 8:00 p.m. (Don't get us started; we've checked out those King beds in the suites, and have some generous ideas of how some of these teams are going to be built).
We know that some people know important stuff and need to share. This particular tidbit came from someone who wrote: "It is my duty to share this information with you..." We also know (from very expensive personal experience — how do you spell CASE?) that anyone who believes Chicago protects so-called "whistle blowers" is living in Madison, Wisconsin or Berkeley, California or some other place where governance isn't governed by hypocrisy, greed, and worse (some of our staff visit the site of Michael Scott's untimely demise regularly).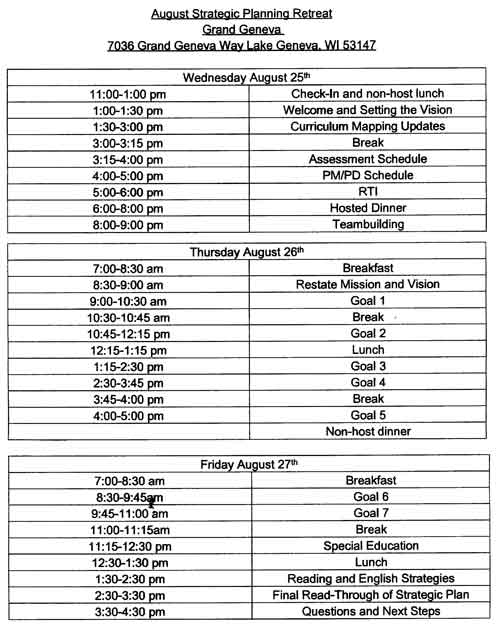 Strategic planning agenda for the Lake Geneva retreat of one Chicago "Area Instructional Office." Back to journalistic reality, as the new school year looms in Chicago and that fictional $375 million "deficit" that Ron Huberman is still prattling about governs civic discourse...
The Substance policy on anonymous tips is that we must have documents that we can authenticate and that the tip must be relevant to CPS operations and budget.
In other words, don't bother with personal schtumpfing rumors — unless they have some relevance to the 'performance' of our executive class and its minions and denizens. We've covered stories like this when they involved retaliation against teachers for questioning the sinner. For example, the big story 30 years ago about a high school principal who was using the computer room for his trysts with a teacher assistant was relevant because it was on school grounds and interfered with the instructional program and resulted in an "unsatisfactory" against the teacher who complained. The infamous Moffat case (which resulted in one of Chicago's most powerful guys going to prison for half a decade for raping kids) is another example.
Simply put, we take these things seriously, but not every tip results in a story (or, as in the two cited above, dozens of stories).
Tips can be shared with Substance by fax, phone, e-mail, or in person. The old City News Bureau motto will be applied: "If your mother says she loves you, check it out." All tips will be verified, and impressive ones will be pursued as best we can utilizing our strained resources.
Personal stuff that is purely personal is always going to be off limits here.
And we oppose bothering people — even powerful ones — at the homes of their families. Tacky that is, in our opinion. But stuff that reveals the relationship between power and its perks is fair game, as we decided when one of our intrepid correspondents hit us with this particular bit of budgetary information just after the Board's lawyers dug in their heels, once again, about how the Chicago Teachers Union take either a pay freeze or the loss of a thousand or two thousand teaching jobs.
Please don't ask us why the Sun-Times and Tribune ignore these stories (while writing prissy editorials advising the unions to join in our common sacrifice or else). Ask them. 