'There's a lot you don't know about this administration,' Obey said.... Obama and his White House staff view teacher bashing, privatization and union busting, as a political tactic that will pay off for Obama
George N. Schmidt - July 14, 2010
Almost two years ago (precisely), at the national convention of the American Federation of Teachers at Chicago's Navy Pier in July 2008, then Democratic Party presidential candidate Barack Obama lied to America's teachers by telling them that he was busy and couldn't attend their national convention in his home town, while he found the time, the night before his appearance by remote, to attend a fund-raising event for rich people at the Hyatt Hotel in Chicago where many of the AFT delegates were staying.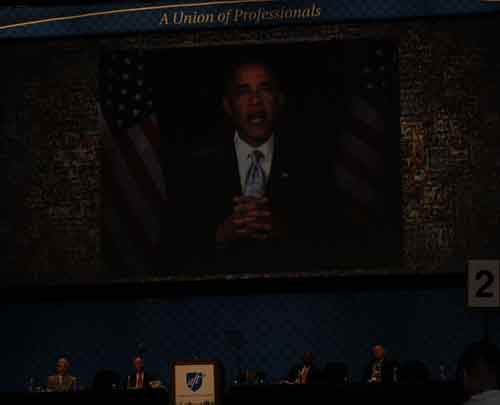 Although Barack Obama claimed he was scheduled elsewhere and had to speak to the 2008 Chicago convention of the American Federation of Teachers, in fact he was in the hotel that housed many of the convention delegates the night before he delivered his speech by satellite (above). Observed by a Substance reporter at the hotel — while he had told AFT officials he couldn't spend time with the teachers — Obama's AFT speech was delivered from San Diego. Substance photo by George N. Schmidt.Those who knew Obama from Chicago and Illinois politics were not surprised. After a brief attempt to claim that they didn't know Obama had actually been in the same hotel as the convention delegates, the AFT leadership tried to simply ignore the slap in the face from the man who was to become President of the United States six months later. Obama's November 2008 election was in part because of the massive support of America's unions, and in particular America's unionized teachers (both AFT and NEA).
The AFT was not the only teacher union he snubbed in July 2008. Earlier in the month, Obama had also avoided the National Education Association (NEA) convention.
Obama's snub of the AFT in Chicago in 2008 was a bold move. I saw Barack Obama at the Hyatt Hotel the night before he gave his remote speech to the convention. I watched his car leave (in the Secret Service convoy) from the parking lot of the convention hotel following his fundraising event. After a bit of time, I confirmed the fact that the AFT leadership (then president Ed McElroy) had known about Obama's presence during the convention and had spoken to Obama about the lie.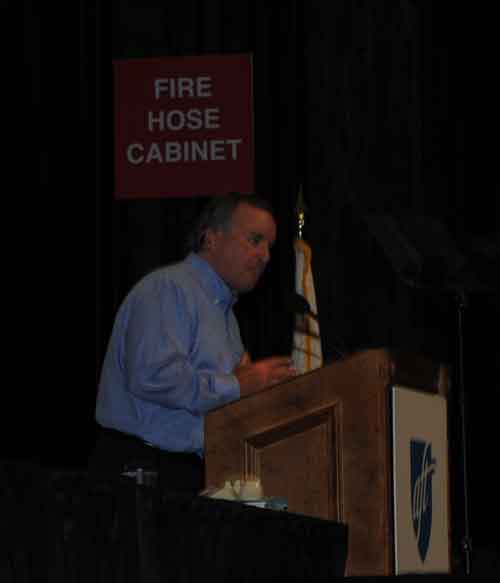 At the time of the 2008 AFT convention in Chicago, Chicago Schools Chief Executive Officer Arne Duncan was so unpopular among the teachers that he cancelled his scheduled speech to the group. Instead of Duncan, the AFT in 2008 was treated to a quickie from Chicago Mayor Richard M. Daley, who arrived in a convoy of security vehicles (Substance counted more than six), delivered his remarks as rapidly as possible, and then exited the hall as quickly as he could. Above, Daley speaking to the AFT in Chicago in 2008. Substance photo by George N. Schmidt.I was almost arrested (threatened by both Obama's staff and hotel security) trying to cover the event that Obama deemed more important than talking to the teachers. What was that event? It was a fundraiser at which wealthy people could pay around $5,000 each to have their photographs taken with the soon-to-be Democratic Party candidate for President of the United States. By that time, Obama had the votes necessary to secure the Democratic Party nomination; the Democratic Party convention was still a month away.
By July 2008, Barack Obama was a long-time ally of the so-called "New Democrats" — and because of that, an enemy of labor unions, especially teacher unions. During his years in Illinois politics, despite the fact that he had received generous support from the teachers' unions, he had regularly sided with the privatization and union busting agendas of Chicago Mayor Richard M. Daley. It was not inaccurate to say that Obama's time in the Illinois State Senate was as a right wing Democrat.

In sharp contrast to Obama's lies to the AFT, Hillary Clinton, whom he had finally defeated the month before, joined AFT officials and the more than 3,000 delegates at the Chicago AFT convention in July 2008, not only delivering her speech in person to the group, but spending a long time shaking hands with delegates and thanking them following the speech. Above, left to right (foreground), Antonia Cortese, Ed McElroy, Hillary Clinton (at podium), Nate LaCour, and Randi Weingarten. Substance photo by George N. Schmidt.During the same AFT convention, Obama's main opponent in the heated Democratic Party primaries, Hillary Clinton, had not only appeared in front of the teachers, but spent more than 15 minutes following her speech shaking hands with teachers, much to the chagrin of her Secret Service guards.
Now it's 2010, and a major analysis of Obama's approach to "education reform", the policies of the U.S. Department of Education under (former Chicago schools CEO) Arne Duncan, and Obama's ongoing attacks on public school teachers and the two teacher unions is easy to follow as a matter of current policy and recent history.
During the 2010 AFT convention, AFT President Randi Weingarten told the delegates in Seattle that the union had invited both President Obama and Vice President Joe Biden to address the convention, but that both had declined. During his speech to the AFT convention, AFL-CIO President Richard Trumka told the delegates that Weingarten had become furious at the White House and Joe Biden following Obama's support for the firing of the teachers of Central Falls High School (Rhode Island) a few months earlier.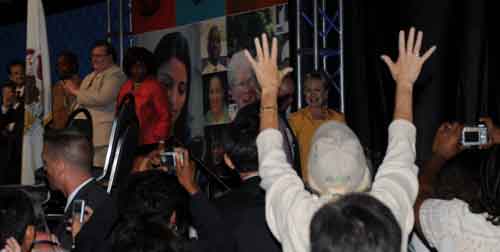 Not only did Hillary Clinton speak in person to the 2008 AFT convention at Chicago's Navy Pier, but she spent time following her speech to shake hands with hundreds of teachers, thanking them personally for their support of her candidacy (while restless Secret Service bodyguards watched warily). Above, Hillary Clinton (between the raised hands in the above photograph) comes down the stairs from the main stage to shake hands with teachers. Substance photo by George N. Schmidt.Although it was clear by 2010 that the Obama administration was promoting an agenda of privatization, charter schools, turnaround, and union busting (most dramatically exemplified by 'Race to the Top') the trajectory of Obama's education policies was becoming clear even before he was nominated by the Democratic Party in August 2008, and long before his announcement that Chicago's Arne Duncan was to become U.S. Secretary of Education following Duncan's time as 'Chief Executive Officer' of Chicago's public schools from 2001 through 2008.
The following analysis from Politico is just one, but thorough. It was shared with SubstanceNews from New York by ICE and Ed Notes. Subject: [nyceducationnews] The Dems' education debacle: Politico
Going into November's elections, the administration is now actively trying to counter critics who contend Obama shows an "anti-business" attitude. The teacher unions make a convenient foil, and Emanuel has argued that business should respect Obama's willingness to stand up for education reform at the expense of labor.
Wow! So attacking the teachers is supposed to ingratiate them with the hedge fund guys and Wall St. financiers, who are angry at the attempt to re-regulate the markets? Good luck with that, guys.
The Dems' education debacle, http://dyn.politico.com/members/forums/thread.cfm catid=1&subcatid =1&threadid=4254006&start=1&CurrentPage=1, By DAVID ROGERS
There's no love lost between White House chief of staff Rahm Emanuel, and House Appropriations Chairman Dave Obey.
Education for Democrats these days is an education itself — a lesson in how dysfunctional this White House and Congress can be on domestic policy. Finding $10 billion in a multitrillion-dollar budget to avert threatened teacher layoffs — months before the midterm elections — would seem a shared goal for the party.
Instead, it's produced veto threats, stalled war funding and created a destructive divide between job-hungry lawmakers and a White House anxious to burnish its business credentials at the expense of teacher unions. Old resentments, rooted in the Democratic back stabbing that followed the giant economic recovery act last year, have resurfaced. The personal trumps the practical, and each side feels so backed into a corner that neither is really communicating.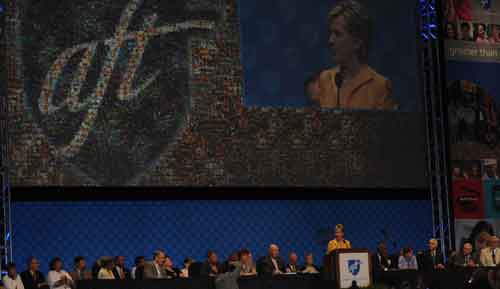 Not only did Hillary Clinton appear on the big screen during the 2008 AFT convention, but she was also present herself (at the podium in the photograph above). Unlike Barack Obama, Clinton showed respect for the teachers who would later be key both to Obama's nomination at the Democratic Convention and to his subsequent victory in the November election. Substance photo by George N. Schmidt.In the runup to the July Fourth 4 recess, it got to the point that President Barack Obama personally appealed to Speaker Nancy Pelosi to intercede and protect education reform funds from being cut to pay for the teachers' jobs. Rebuffed, Obama then put down his marker: a late-breaking veto threat.
But this only further united House Democrats — all but 15 of whom joined in a shot across the bow of the president. "I think their veto threat helped us pass the amendment," House Appropriations Committee Chairman Dave Obey (D-Wis.) told POLITICO.
"There are so many members of our caucus who think that this administration is willing to use members of Congress as cannon fodder. I think they were looking for a chance to send a message to the administration."
The White House knives are out now for Obey, and there's no love lost between the chairman's camp and Obama's sputtering chief of staff, Rahm Emanuel.
But as Congress returns this week, the greater danger is the overwhelming sense of drift. Asked Monday what the next step would be, Senate Appropriations Committee Chairman Daniel Inouye (D-Hawaii) was anything but certain. "I wish I knew; I really mean that," he said in a brief Capitol interview. In fact, the Senate has thus far ducked the teacher crisis and shows no appetite for engaging it without Republican support.
The Pentagon's pockets are deep enough to survive a few more weeks of delayed war funding: "The services will find the money to fund our operations in Afghanistan. I'm convinced of that," Gen. David Petraeus told senators recently. But with the Kabul Conference next week, important State Department operations in Afghanistan are being squeezed — not to mention Iraq funding and Haiti earthquake relief. And as hurricane season approaches, the Federal Emergency Management Agency is running on fumes.
What this window affords lawmakers and the White House is time to sort through the wreckage — and perhaps learn from past mistakes.
One myth that's grown up around the fight is that the $10 billion for the teachers was added by House Democrats as a way to get liberal support for Obama's underlying Afghanistan war-funding request.
But a closer look at the House votes on July 1 shows that the $33 billion for the Pentagon was never in serious danger. Only 22 Democrats supported a motion to strike it entirely; just 93 backed a second amendment directing that the added funds be used only for the purpose of a U.S. withdrawal. A third amendment — backed by Pelosi and a majority of Democrats — did seek to impose conditions on Obama in an effort to get him to give a clearer time frame for a U.S. withdrawal. But this failed also, 260-162, and was opposed by a significant bloc of 98 Democrats.
The real House dynamic was a last-ditch attempt by Democrats to get Obama focused on a state-and-local government crisis that many lawmakers believe the administration has been slow to recognize.
"There's no strategy there," House Education and Labor Committee Chairman George Miller (D-Calif.) told POLITICO, and all spring the administration has been at war with itself over how to proceed.
A letter of endorsement from Education Secretary Arne Duncan arrived an hour after the Senate Appropriations Committee completed its markup of the war-funding bill May. 13. Then the White House stayed silent on the issue when the bill came to the floor, and even Monday, after all the rhetoric, there was no formal budget request.
Obama and Duncan have embraced the teachers initiative, but the administration's approach has been too cute for many Democrats. A famous Saturday night letter to Congress, for example, was leaked to the Sunday papers before it even got to House and Senate leaders. And the one point at which the White House seemed fully engaged was when it felt threatened by plans to take $800 million from Obama's education reforms to help pay for the teachers fund.
Most sensitive was $500 million coming from unspent recovery act funds designated for the president's Race to the Top school initiative. This hit a raw nerve for the administration, which says it wanted as much as $15 billion for education reforms in the stimulus bill and reluctantly agreed to come down to $5 billion.
To see that pot of money threatened was too much for the president and Duncan; thus, the quick-strike veto threat.
Election-year politics may also have had a hand. By taking such a high-profile veto stand, the White House played to business allies and wealthy donors who share resentment toward teacher unions for not being more supportive of education reforms. Going into November's elections, the administration is now actively trying to counter critics who contend Obama shows an "anti-business" attitude.
The teacher unions make a convenient foil, and Emanuel has argued that business should respect Obama's willingness to stand up for education reform at the expense of labor. Obey hurt his cause by framing a set of budget choices that pitted reform funds against the teachers.
But the chairman would argue that he was in an untenable situation and that these were the cards he was dealt under the new anti-deficit politics in the Democratic Caucus. After all, when the teachers fight began months ago, the measure was to be $23 billion in new emergency aid. Obey cut that in half and then paid for it to placate moderates who didn't want to add to the longterm deficit.
"They said it was their signature program, I know that," Obey said of the White House. But he also cut from favorites of his own, such as expanding broadband computer access to rural areas like his district. "My top priority in the whole stimulus package was broadband, and we cut over $600 million out of broadband. I was trying to demonstrate to people that if they were unhappy about my cutting their priorities, welcome to the club, I've cut my own." "There's a lot I don't know about this administration," Obey said.
