MEDIA WATCH: The new "F" word at CPS is spelled FENGER.. The Chicago media let Huberman talk about so-called 'turnaround' without ever mentioning Fenger High School
George N. Schmidt - January 20, 2010
Given all the rumors circulating since January 1, the Chicago Sun-Times did a credible job in its report on January 19, 2010 in which they got 13 out of the 14 schools on this year's CPS Hit List right. I suspect that Huberman tweaked the Hit List at the last minute just to keep the Sun-Times in its place. Ruggles was reported going down in the Sun-Times, but Bradwell is going down instead. Since both are the same under Huberman's rules, it was a dime versus ten cents. The most important fundamental fact is that using his "matrix" that our colleagues in the media allow Huberman to get away with, he could have closed and turned around 50 or more schools for "poor performance." He said as much. The only reason he didn't, he said, was a "capacity issue."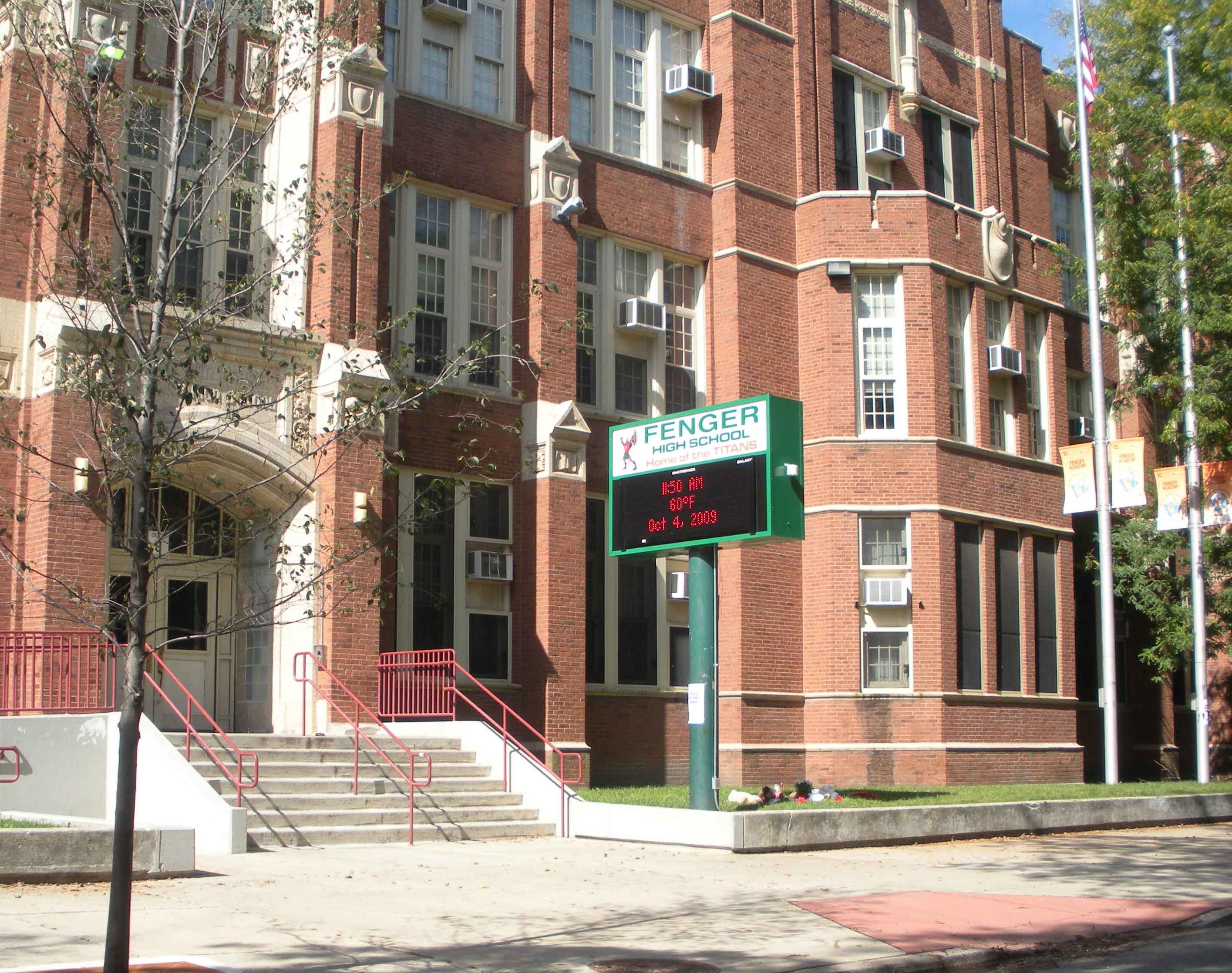 Chicago's Fenger High School (above) has remained in trouble since the murder of Fenger student Derrion Albert. The photo above, taken in early October 2009, shows the memorial to Derrion Albert at the foot of the "Fenger" sign. At his January 19, 2010, press conference, CEO Ron Huberman announced he was expanding "turnaround" without ever mentioning Fenger, which was the most dramatic example of the results of the disastrous "turnaround" policy. Substance photo by George N. Schmidt.Apparently, by "capacity issue" in this case Huberman means that AUSL is not yet ready to take over dozens of schools. But, according to Huberman, Chicago owes it to the children to save them (via AUSL) from those terrible teachers whose terrible teaching is leading to those terrible test scores.
One of the fascinating things about the January 19 media event was that for all the discussion of AUSL and "turnaround" nobody used the "F" word:
Fenger.
More than a dozen reporters from the city's supposedly sophisticated corporate media sat there while Huberman went on and on about how Harper and Orr proved that "turnaround" works, and nobody asked about FENGER. But just in case, Huberman had a couple of people from the old RAP program ("Rent a Parent") to sing the praises of AUSL's "turnaround." The one who got the most attention claimed she was critical of the closing of Dulles last year but had seen the light.
But no FENGER.
Huberman claimed that Harper and Orr were great examples of how "turnaround" has succeeded. Those high schools went through "turnaround" in 2008 - 2009.
Fenger, which began "turnaround" in September 2009 was not mentioned, and no reporters asked. I got in one question — the extra dollars that go into a school during the first year of "turnaround" — and Huberman answered it: $1 million. (It's actually more, but that will require some FOIA work).
Everyone at CPS hates the "F" word. Nobody wants to talk about what is happening, right now, at Fenger.