MEDIA WATCH: Are major national newspapers pushing JROTC, military high schools on Chicago model?
George N. Schmidt - January 01, 2010
If a reader wants to know the editorial opinion of today's "news" papers, the best place to learn is by carefully tracing the "news" that appears on Page One and the biases inherent in the news selection itself.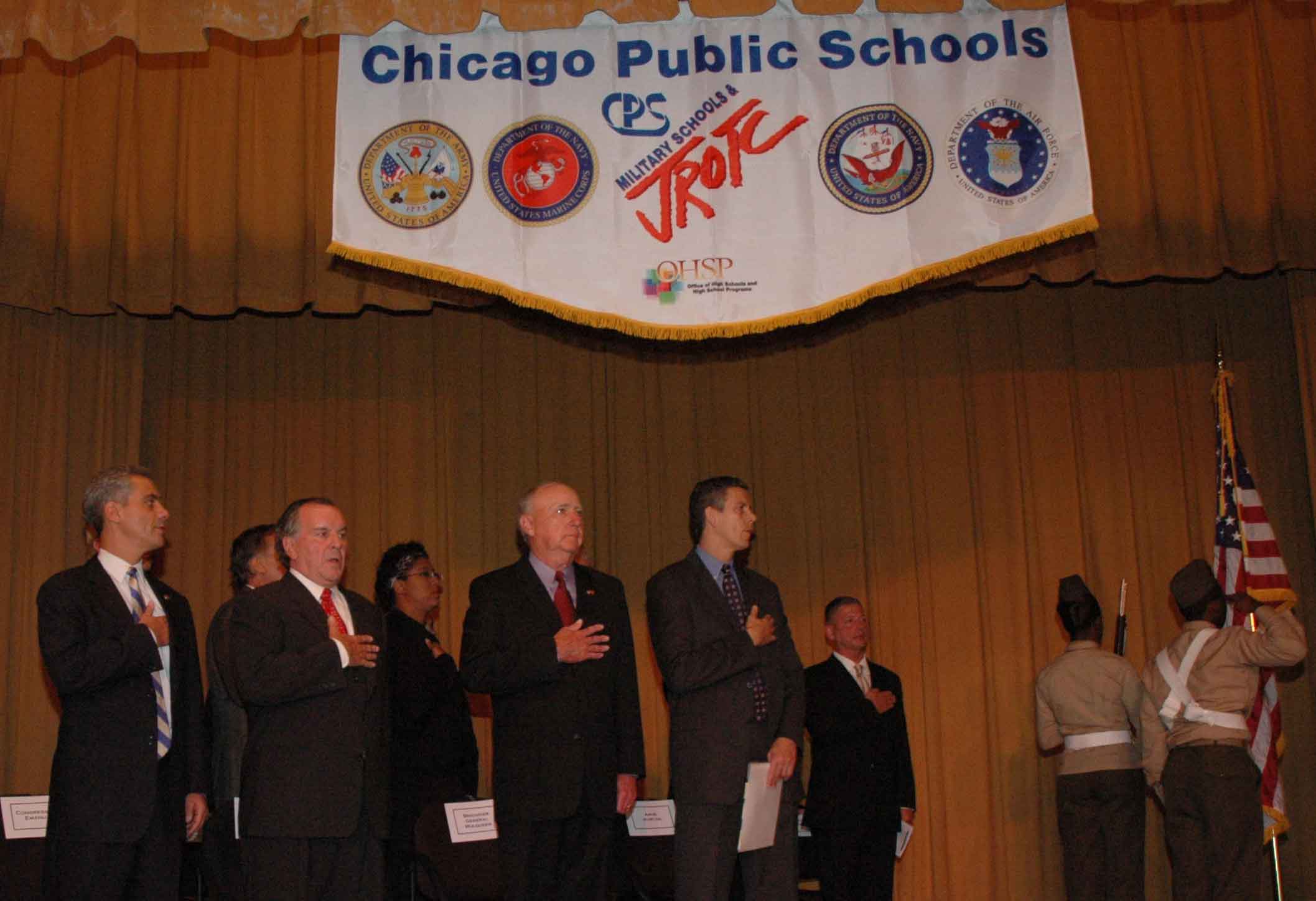 Chicago Mayor Richard M. Daley, (then) Congressman Rahm Emmanuel, and Chicago Public Schools Chief Executive Officer Arne Duncan salted the flag during ceremonies dedicating Chicago's first "Marine Corps" high school on October 17, 2007. The Marine school, which was located inside a building that had once housed the U.S. Grant Elementary School, became the sixth military high school in Chicago (four Army; one Navy; in 2007 the USMC) at the time. The following year, on the recommendation of Arne Duncan, the Chicago Board of Education approved the seventh military high school, run in conjunction with the U.S. Air Force. By the time Duncan was appointed U.S. Secretary of Education in January 2009 by President Barack Obama (and Rahm Emmanuel became White House Chief of Staff), Chicago had created the largest Junior ROTC program in the USA and had created, for the first time in history, a group of public schools which were operated in conjunction with the various branches of the Armed Forces. The military schools, like Chicago's charter schools, received enhanced funding making them better able to compete for students with the city's dwindling number of general high schools. At the October 2007 event, Congressman Emmanuel bragged that he had gotten a million dollar "earmark" specifically for the Marine Military Academy High School in Chicago. Chicago clout also enabled the school to get an estimated $30 million from the State of Illinois (via the "Illinois Facilities Fund") to convert what had once been a large elementary school into a two square block "campus" to house the Marine Military Academy High School and a second military high school ("Phoenix — Army — Military Academy High School). Substance photo by George N.. Schmidt. It became obvious by the end of 2009 that at least two of America's major newspapers had decided that Junior ROTC was a very good thing. Both the Chicago Tribune and The New York Times ran articles praising Junior Reserve Officer Training Corps programs during the final days of 2009. While Chicago's vast expansion of militarism in the city's public schools during the first decade of the 21st Century is not explicitly on the agenda of former Chicago CEO and current U.S. Secretary of Education Arne Duncan, it reads like the ground is being prepared for a national expansion of JROTC similar to the expansion of JROTC and "military high schools" that Chicago saw during the eight years (2001 to 2008) Arne Duncan was in charge of Chicago's public schools.
If part of "Race to the Top" becomes expanded JROTC and "military" public high schools across the USA, readers heard if first on New Year's Day in Substance.
Below here is the contribution from The New York Times:
More students turning to Junior ROTC programs, By Jordan Schrader - Asheville (N.C.) Citizen-Times via Gannett News Service (Thursday Dec 31, 2009 8:25)
ASHEVILLE, N.C. — Before enrolling in the Junior Reserve Officers' Training Corps program at Asheville High School, William Michaels says he struggled to keep his anger under control.
Now, the high school senior says, he doesn't get in trouble much anymore, thanks to leadership skills shaped by Junior ROTC. He spends much of the school day — plus hours after school, some weekends and part of summer vacation — in the building where program students work out, hit the books and shoot air rifles.
"It's more than a class. It's like a giant support group," says Michaels, 17.
An increasing number of teenagers are getting early exposure to military life through their high schools. Enrollment jumped 5 percent this year to 513,297 students in Junior ROTC programs, according to combined Army, Navy, Marine Corps and Air Force statistics. That far outpaced the program's growth from 2005 to 2008, those statistics show.
The growth is driven in part by the 2008 National Defense Authorization Act, which directed the Pentagon to add high schools to the program. The goal was to have 3,700 programs by 2020. There are about 3,400, according to combined military statistics.
Students may soon be able to get involved even younger. A program modeled on the Army's Junior ROTC program is due to start up next fall as a pilot in three yet-to-be named middle schools, says Col. John Vanderbleek, the Army program's director.
Teens struggling through a physically and emotionally turbulent time in their lives find help in discipline and the influence of military-trained instructors, Vanderbleek says.
"You give them some structure," he says. "Maybe it's just the uniform — one day a week they have to wear the uniform, or they have to be accountable to be at the right place at the right time in the right dress." Gene Bottoms, an education researcher who has visited hundreds of high schools, agrees. Participants seem to become more disciplined in their studies and more focused on goals, says Bottoms, director of the High Schools That Work program at the non-profit Southern Regional Education Board.
"The pride that these students display when you go in the schools who are in these programs is just amazing. You read it on their face. They walk with a certain confidence," Bottoms says.
Cristina Gonzalez, 18, yelled out commands as her unit marched in its first drill competition. The Navy JROTC program at Grossmont High School in El Cajon, Calif., opened three months ago and has 167 students, says Chief Flor Buncab, one of the unit's two staff members.
"It already is making a difference in my life," Gonzalez said. "It's helping build my leadership. Like before, I had it, but I never demonstrated it." Gonzalez, a senior, has become the lieutenant commander of her battalion.
Apart from new units, enrollment may be on the rise partly because of a cutback in other after-school activities as schools cope with falling tax revenue, Air Force JROTC Deputy Director Greg Winn says.
Unlike other school groups, JROTC has the funding of the Pentagon behind it, allowing it to add schools such as Grossmont.
Gonzalez says she is deciding among the Navy, other branches of the military and college. But the group isn't a recruiting tool, says J.D. Smith, director of Navy JROTC. Its goal is to cultivate good citizens.
"Our mission is public service, not necessarily military service," Smith says.
Smith credits the uptick in new members to an increase in patriotism and civic pride.
Not all programs are growing.
The Marine Corps recently threatened to pull funding for schools such as Asheville High with less than the legal minimum enrollment for Junior ROTC units: 100 students or 10 percent of the student body. Maj. Ron Capes says his Asheville High unit — which has 59 students, down from 78 last year — is typical of units in Buncombe County, N.C., in seeing declines over the past decade. Worry about the Iraq and Afghanistan wars may be partly to blame, he says.
The Chicago Tribune's December 28, 2009 JROTC article is below here:
Navy Junior ROTC program: East Aurora High School has nation's largest unit, One cadet joined after older brother was killed in Iraq: 'I became a better person', By Margaret Ramirez, Tribune reporter, December 28, 2009, www.chicagotribune.com/news/chi- aurora-njrotc-28-dec28,0, 202339.story, chicagotribune.com
After seeing a presentation on the Navy Junior ROTC program at East Aurora High School, Juan DeLaTorre saw a possible path to a better life.
Then, a few days later, on April 16, 2007, when his older brother, Jesse DeLaTorre, was killed in Iraq, his decision was sealed. Juan became a Navy Junior ROTC cadet to escape the temptation of the streets and to honor his brother's memory.
"When I was an eighth-grader, a lot of my friends were involved in drugs and gangs, and I was getting too close to that," said DeLaTorre, 16, now a junior at East Aurora. "When I joined ROTC, I became a better person. It helped me a lot."
DeLaTorre is one of more than 638 cadets in East Aurora's successful Navy Junior ROTC program. In 1995, the program started with just 30 cadets, and by 2005, there were more than 500.
This September, more than 300 freshmen volunteered for the program, making it the largest Navy Junior ROTC unit in the nation.
While the growth of East Aurora's program parallels the nation's continuing war in Iraq, school officials and student cadets said the reasons for the program's popularity run deeper than patriotism and are more closely related to socioeconomic status, tough family situations and students' aspirations.
In East Aurora, where many students come from financially strapped immigrant families, where the pull of gang life and drugs is real, the program offers an opportunity to change lives.
"Part of the success of this program is it literally takes people off the streets," said Lt. Commander Darryl N. Person, a retired naval officer who heads the program.
"We have after-school ROTC programs, we have color guard, drill team, academic teams, physical training teams. All those things to keep them active and engaged, so that the street does not pull them in. They see this as an opportunity or steppingstone to something greater."
However, some education experts have expressed concern with the explosive growth of Junior ROTC programs in schools with predominantly low-income Latino and African-American students. At East Aurora, for example, the student population is 84 percent Latino, 8 percent black and 5 percent white, with the Navy Junior ROTC program mirroring that ethnic breakdown.
In the neighboring West Aurora school district, where 44 percent of students are Latino and 34 percent are white, there is no ROTC program.
"Most of these programs are located in poor or low-income Latino and African-American communities," said Pauline Lipman, a policy studies professor at the University of Illinois at Chicago's College of Education. "So we have to ask: If the programs are so great, why aren't they in white affluent communities too?"
Other critics of ROTC programs argue they are recruitment vehicles for the military. But Person said that was a misperception. He said the program emphasizes discipline, scholarship, citizenship and community service with the goal being college.
"Even though it's military-based, this is not a recruiting arm for the military," Person said. "What we push is going to college. That's our emphasis. Please go to college."
The school does not keep statistics on how many graduates enlist in the service. However, Person said several East Aurora program graduates have joined the military. Three of them, including Jesse DeLaTorre, died in Iraq.
Linda Oceguera, 17, a senior cadet commander who plans to attend college to study criminal law, disagreed with the claim that the military might be taking advantage of Latino and African-American youths. Oceguera said some Latinos might join ROTC as a way to establish their place in society.
"We want to show pride in our nationalities. In the past, we've been discriminated against and seen as minorities. We want to say, 'Hey, we're just as good as everybody else. We're Americans, we're born here and ... we're able to do good and make a difference in this world.' "
Though several high schools have Navy Junior ROTC programs, East Aurora stands apart because the unit has its own building, which is shared by the National Guard on weekends. The building holds three classrooms, a gym and an indoor shooting range -- a prized feature that few Illinois high schools have.
Naval instructors and cadets said the East Aurora program's popularity has grown because of its stellar performance in national drill and color guard competitions.
Another reason for the unit's growth is that many students such as Juan DeLaTorre learn about the program from older siblings and become inspired to follow in their footsteps.
The program at East Aurora is a daily class that is a substitute for physical education. On Wednesdays, cadets are required to wear uniforms for inspection and take part in military drills to learn salutes and proper behavior in uniform.
"This is where the discipline comes in," said George Allen, a program instructor.
Pho Le, a senior cadet captain, said the program gave him a sense of belonging that he had been searching for. While he credits his parents with supporting him, Le said he found a second family in the ROTC unit that motivated him in a different way.
"It's like a brotherhood. They take care of you. You have fun with them. We go eat after drills. It's like basically a new family," he said. "They took me in as their own son, and I love them. I love every single one of them."
Upon graduation in June, Le said he would enlist in the military because he didn't want to place any financial burden on his parents.
DeLaTorre said he knew several students who joined the program because they lacked family support at home.
"Everybody needs to be loved and cared for. Everybody needs to hear congratulations and be able to be proud of yourself. And some people don't get that from their parents or anybody else. ROTC just gives it to you," he said.