Board votes 'Warning Resolution' against several principals, including Prescott's Erin Roche
George N. Schmidt - December 17, 2009
Two hours after the tumultuous public representations at the final meeting of the Chicago Board of Education for 2009, the Board emerged from Executive Session and voted on several important resolutions which had to be kept off the public agenda because they concerned personnel matters.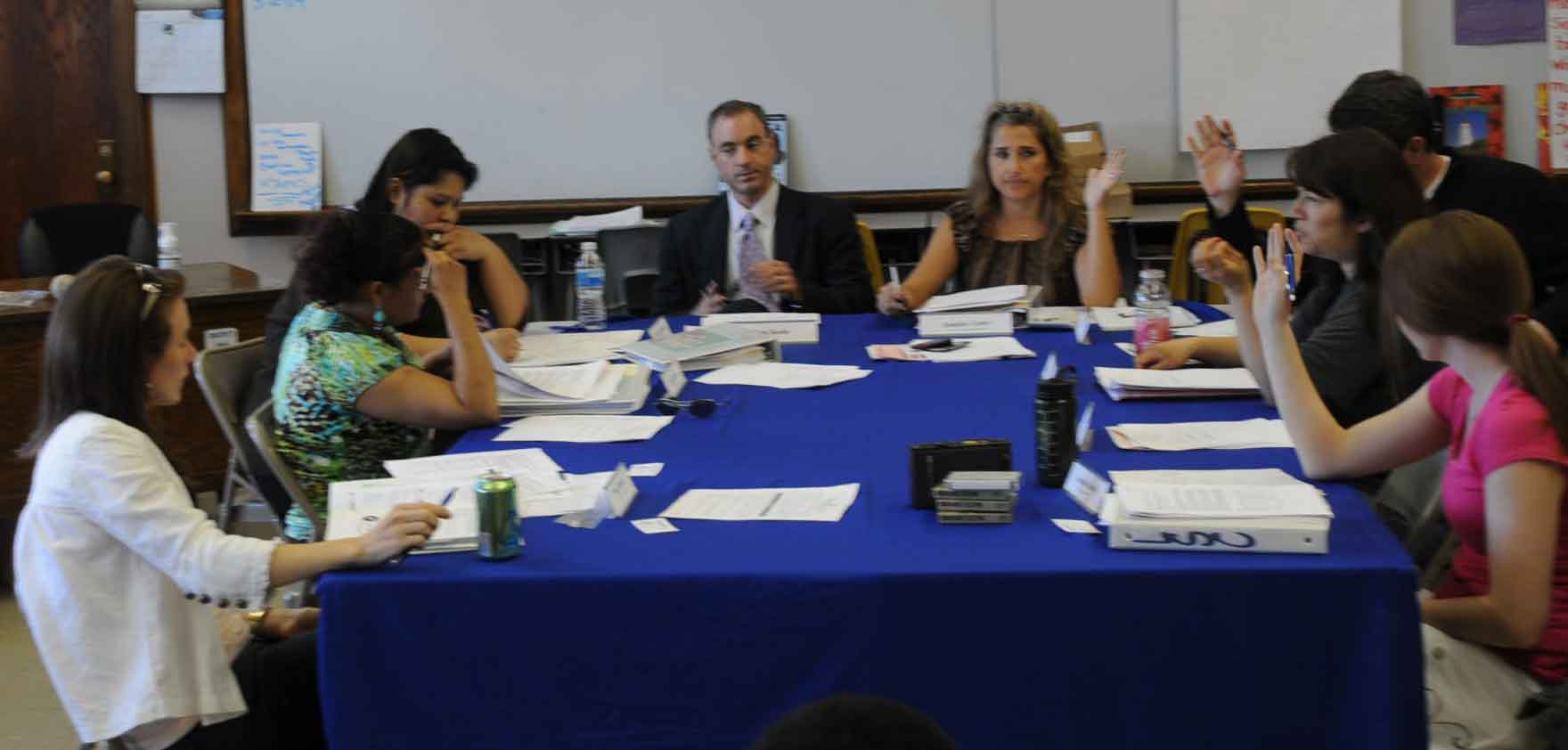 Prescott Elementary School Principal Erin Roche (above, fourth from left at the school's May 12, 2009 Local School Council meeting) was one of several principals issued a Warning Resolution by vote of the Chicago Board of Education at the Board's meeting on December 16, 2009. The Board Report containing the Warning Resolution did not specify the problems that led to the Board action. Substance photo by George N. Schmidt. Among other votes, the Board issued a Warning Resolution to the principal of Prescott Elementary School, Erin Roche. The specific reasons for the Warning Resolution were not disclosed. Roche was one of several principals to receive the Warning Resolutions.
Because Chicago Public Schools Chief Executive Officer Ron Huberman has been illegally delaying the release of the final actions of the Board of Education meetings for the past seven months, the public may not be able to read the complete Agenda of Action from the December 16 meeting on the Board's Web site until after Christmas. Although the Board vote is supposed to be the final legal action on any Board Report brought to the Board — and although the Agenda is supposed to include all matters of public record under the Illinois Open Meetings Act — since June 2009, Huberman has been keeping the final actions of the Board to himself for days (and sometimes weeks) following the Board votes.
In other actions from Executive Session, the Board also voted to fire two of the four teachers who ran afoul of the so-called Fresh Start program at Wells High School. In one of those cases, the Board voted to ignore a hearing officer recommendation that the teacher be retained.
When the Board emerged from Executive Session, Huberman was not present. The Board meeting was adjourned without Huberman returning to the Board chambers.
Substance had told Monique Bond, the Board's Communications Chief, that we wanted to talk with Huberman following the executive session to ask him for a list of all elementary and high schools that could be closed under the "School Closing" policy that Huberman outlined in a Power Point presentation to the Board. Huberman was not available for questions following the Board meeting and has been routinely avoiding press conferences and other open availabilities to the press. 